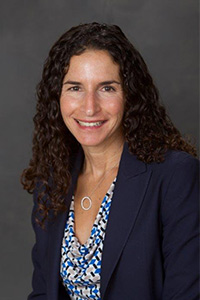 Michelle L. Tiger
Michelle L. Tiger joined the firm as of counsel in February 2017. Tiger has over thirty years' experience in civil litigation and, since 2001, she has dedicated her practice to representing catastrophically injured victims of dangerous drugs and medical devices. She has tried and co-tried many cases and has helped thousands of clients obtain settlements in cases involving PPA, Baycol, Denture Cream, Gadolinium, and Pelvic Mesh, just to name a few.
Tiger is listed in the 2013-2017 editions of Best Lawyers in America and, since 2010, the independent rating service Pennsylvania Super Lawyers has named her among the state's top five percent of attorneys statewide. She was also named a "2013 Top Rated Lawyer in Mass Torts Law" by American Lawyer Media and Martindale-Hubbell.   She has an AV Preeminent rating from Martindale-Hubbell.
Tiger spent most of the first half of her distinguished career defending Fortune 500 companies in product liability litigation. Her experience as a defense attorney for some of the world's largest companies provided her with invaluable insight that she has used in successfully representing plaintiffs over the last fifteen years.
Biography
Tiger graduated with a B.A. in Politics from Ithaca College before attending Villanova Law School. She began clerking with Philadelphia defense firm Margolis, Edelstein, Scherlis, Sarowitz & Kraemer during law school and became an associate there after graduation.
After relocating to Arizona in 1986 and working for a small firm in Tucson on a variety of matters, Tiger returned to Philadelphia in 1988 and resumed her employment at Margolis Edelstein.  In 1992, Tiger joined the well-known Philadelphia defense firm Marshall, Dennehey, Warner, Coleman & Goggin as an associate, and she was later elevated to shareholder. She represented companies primarily in product liability litigation at Marshall Dennehey for the next nine years.
Since 2001, Tiger has been representing catastrophically injured individuals, especially those who suffered injuries caused by dangerous drugs or devices. She worked at Greitzer and Locks from 2001 to 2003, when she joined Kline & Specter, where she was a partner until 2016. At Kline & Specter, Tiger was involved in all aspects of a mass tort practice group named one of the top in the United States in 2013. She was co-liaison counsel in the Philadelphia Mass Tort Programs for Denture Cream and Pelvic Mesh, and she also handled mass tort actions involving talcum powder, Vioxx and other pharmaceuticals.
Tiger has a strong commitment to pro bono legal services. For the past six years, Tiger has been a volunteer attorney for The Support Center for Child Advocates in Philadelphia, where she represents children who have been neglected or abused.
A fitness enthusiast, Tiger is a Certified Personal Trainer, Spinning Instructor and an avid runner.
Education
Ithaca College, B.A., 1982
Villanova University School of Law, J.D. 1985.
Bar Admissions and Professional Associations
Tiger is admitted to practice in state and federal courts in Pennsylvania, New Jersey, and Arizona, the Third Circuit Court of Appeals, and the United States Supreme Court.   She is a member of the Philadelphia Bar Association, the Pennsylvania Association for Justice, the Philadelphia Trial Lawyers Associations, and the American Association for Justice.
Representative Cases
Tiger has secured or helped secure thousands of individual case settlements in her career, nearly all of which are subject to confidentiality agreements. Many of these settlements were a part of the mass tort programs in which she has played an important role, including:
The $4.85 billion global Vioxx settlement
Multi-million dollar global Denture Cream settlement
Multi-million dollar PPA (phenylpropanolamine) settlement
Multi-million dollar Baycol settlement
Tiger has helped secure significant settlements for clients in other pharmaceutical and medical device cases, including contact lens solution, MRI contrast dye, and pain pumps.
Tiger was also part of the trial team that obtained a $13.5 million verdict against a Johnson & Johnson division on behalf of a woman who suffered a serious injury caused by a pelvic mesh implant.