If you or a loved one has sustained a catastrophic injury due to the negligence of another person, you may be entitled to financial compensation. You or your family could potentially pursue a monetary recovery by filing a catastrophic injury lawsuit in Philadelphia. During this difficult time in your life, you need a lawyer who will let know what to expect from your lawsuit at every step and explain the key factors that will be most important in determining the outcome.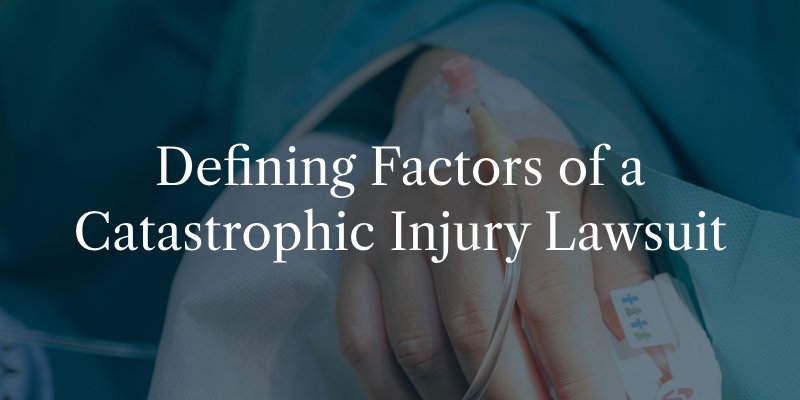 Definition of Catastrophic Injury
The definition of a catastrophic injury is one that causes serious physical harm, such as significant or permanent loss of an important bodily function. It is an injury that will change the victim's life, most likely forever. It may result in a long-term or permanent physical or cognitive disability.
Examples of catastrophic injuries include:
Traumatic brain injury
Spinal cord injury
Paralysis
Severe burns
Permanent scarring or disfigurement
Loss of limb
Multiple bone fractures
If a catastrophic injury is caused by the negligence of another person, the victim may be able to file a lawsuit against the at-fault party. Negligence is the failure to act with or use ordinary care. A catastrophic injury claim could reimburse the victim for related damages, including medical bills, lost wages, and pain and suffering.
Type of Claim
The first step in pursuing a catastrophic injury lawsuit is to search for the right personal injury attorney for your type of case. In Pennsylvania, many different types of accidents can cause catastrophic injuries and lead to related lawsuits.
Your catastrophic injury case may take one of the following forms:
Each type of case has unique elements, issues and related statutes. For example, a premises liability claim requires proof that a property owner failed to maintain a safe premises, while a medical malpractice lawsuit must prove that a health care practitioner fell short of the standards of patient care.
Severity or Permanent Nature of the Injury
One key element of a catastrophic injury claim is the severity of the injury. This can determine the length of the victim's healing time, the amount of medical care he or she will need, and the value of the case. Because the extent of the economic and non-economic harm resulting from severe and catastrophic injuries is greater than the harm caused by minor injuries, catastrophic injury victims are generally entitled to greater compensation than those who suffer minor injuries.
Your lawyer will be able to advise you about the appropriate timing for filing your case. It often makes sense to file suit as soon as possible to ensure that relevant evidence is preserved and to get the earliest possible trial date for your case. In other cases, it may be advisable to wait until you have more information about your prognosis and the treatment you will require before initiating suit.
Elements of Proof
The burden of proof in a catastrophic injury claim rests with the plaintiff or filing party. This means it is up to your attorney to establish that the defendant(s) caused your catastrophic injury. The evidentiary standard is a preponderance of the evidence, or that what you are claiming is more likely to be true than not true. The elements that are typically necessary to prove negligence are duty of care, breach of duty, causation and damages.
Do You Need an Attorney?
Yes. Catastrophic injuries are life-altering events that may forever change the course of your life. You should not pursue compensation for your injuries without hiring an experienced attorney. A lawyer can help you prove your catastrophic injury case by investigating your accident, collecting evidence of fault or negligence, and telling your story to a judge or jury in a way that is compelling. A personal injury lawyer can handle the legal process and let your family while you focus on healing. To learn more about what to expect during a catastrophic injury lawsuit in Pennsylvania, contact Youman & Caputo for a free case consultation with one of our attorneys.